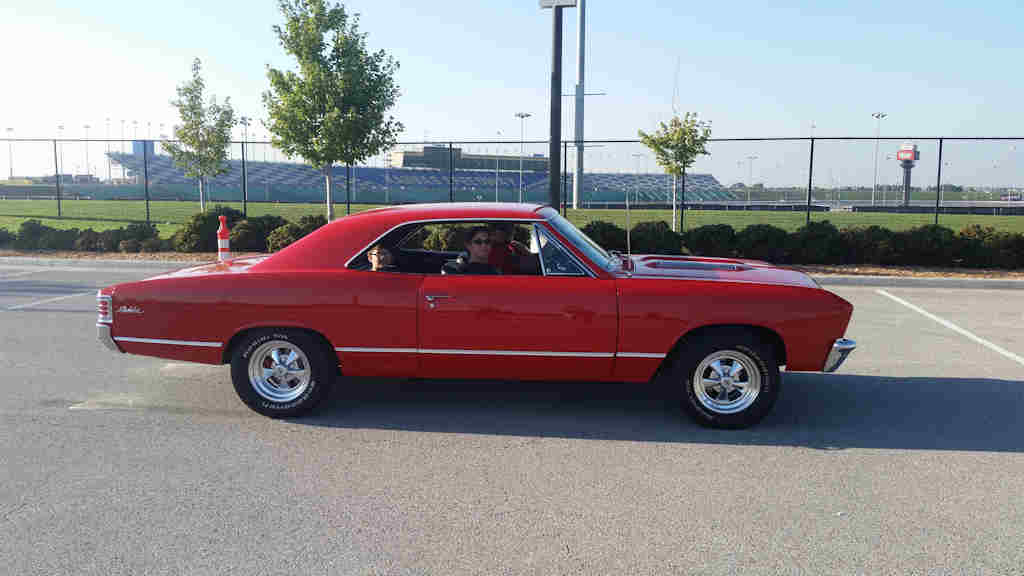 Have you ever said or heard someone say "I had a car like that when I was younger or I drove a car like that when I was in high school ?" "I wish I still had it."
Hello my name is Eugene Hallouer and I did just that, kept my old high school car. I am reminded of the good old days every time I drive it. Those were the good old days!
I purchased the car in 1974, my senior year in school from a friends brother for 300.00 The stock 283 engine was tired but the body was rust free and the interior was complete. After driving the car for two years, the engine finally said "enough". Needing transportation, I purchased my brothers 66 Nova Super Sport and pursued the task of replacing the engine. Well one thing lead to another and after 13 years I finally completed the car.
The 283 engine was replaced with a 350 - 4 bolt, the Powerglide transmission was replaced with a Turbo 400 and the rear end swapped for a 12 bolt with 4:11 gears. The engine is basically stock except for the Crane Fireball cam, Edelbrock Torker manifold, Holly 600 carburetor and Appliance headers. The transmission was completely rebuilt with a B&M Trans kit and matched up with a B&M Holeshot torque convertor. All new bearings, seals and a set of Zoom gears in the rear end completed the drive train.
All the suspension parts were checked and replaced as required. The interior is stock except for the 67 Camaro bucket seats. The body was completely disassembled, stripped and painted Guards Red.
In todays fast paced society, finding time for fun is tough but I like to take time just to take a trip down memory lane in my 67.