Upcoming Club Events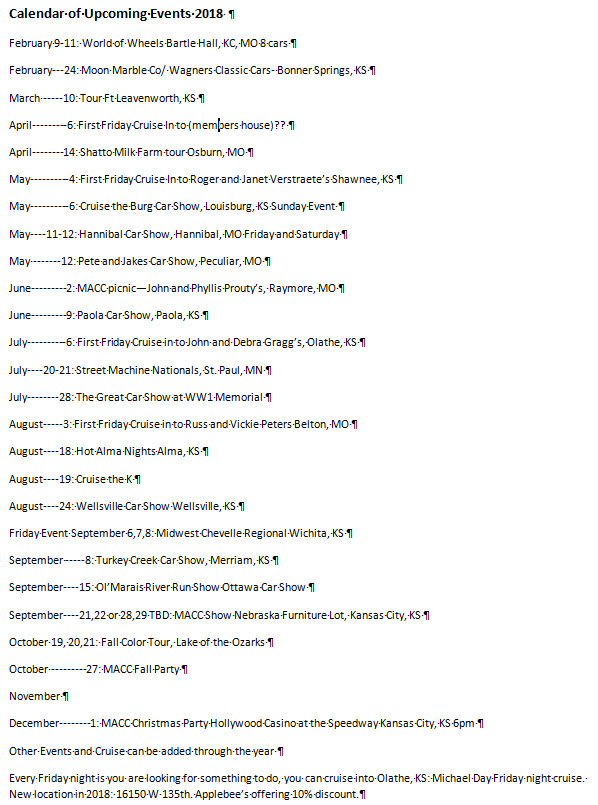 2018 KC area cruises - Cruise nights listings - Event Finder
---
Past Club Events
2017: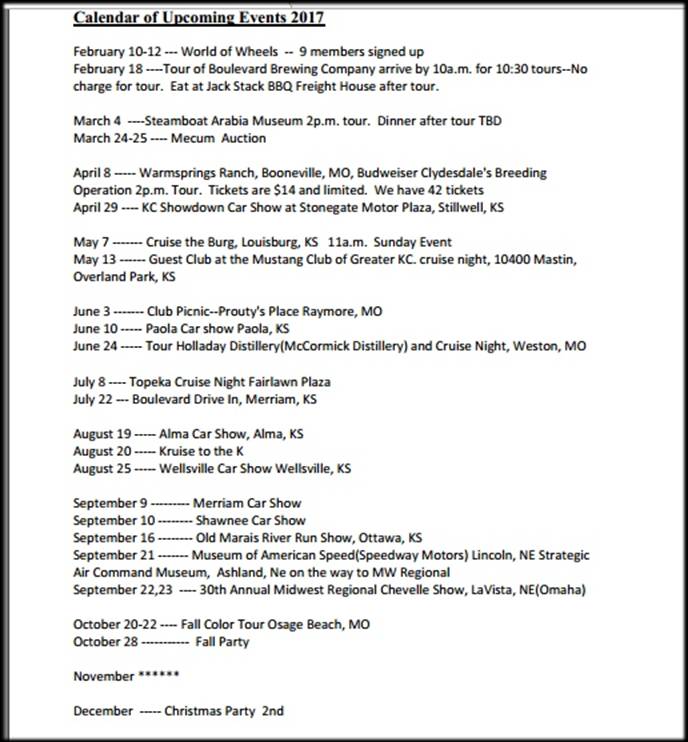 2016:
*February 12,13,14 - World of Wheels. We have 7 members with 8 cars showing.
*February 21 - Truman Library, Independence, MO Sunday event
March 11-12 - Mecum Auction Bartle Hall, Meet for breakfast before attending on the 12th
*March 20 - Armacost Car Museum Grandview, MO Sunday event
*April 9 -Turner High School Tech Dept Car Show Turner, KS
*April 23 - Stonehaus Winery Lees Summit, MO eat at Canoe Club Lake Lotawana---Belton Cruise Night
*May 14 - Cruise night as guest club of the Mustang Club of Greater KC at Fireside BBQ 10400 Martin Street (103 rd Street and 169 HWY) Overland Park, KS
*May 21 - Missouri State Penitentiary Tour---Jefferson City, MO 12 noon tour, We will need a head count on this event as we must purchase tickets $15 each, in advance. 35 spots for this tour time.
*June 5 - MACC picnic at the Prouty's place Raymore, MO Sunday event
*June11 - Paola Car Show at Paola, KS
*June 17 - Hot Rod Power Tour at Kansas Speedway
*June 18 - Super Chevy Show Heartland Park Topeka, KS
*July 16 - National Airline History Museum Downtown Airport Kansas City, MO North Kansas City cruise night—Chappell's Restaurant and Sports Museum
*August 20 - Hot Alma Nights Alma, KS. Cruise of the Flint Hills starts at 11a.m.
August 21 - Kruise to the K. If a member wants to do this they MUST register on the Royals website well before the game as they have a limited number of packages.
*August 21 - C.A.R.B. Show LaBenite Park, Sugar Creek, MO
*September 10 - Turkey Creek Show and Lindan at Merriam, KS KCI Cruise Night
*September 17 - Ol Marais River Run at Ottawa, KS
*September 23,24- 29 th Annual Midwest Chevelle Regional Show hosted by MACC
**October 14,15,16 - Fall Color Tour, Lake of the Ozarks
*October - Smoot's Fall Party
*December 3 - MACC Holiday Party
2015:
April 11 - Tour Fort Scott Historic Site in Ft. Scott, KS
April 24-25 - Mecum Auction, Bartle Hall
May 16 - Price Chopper/South 71 Cruisers Show at Raymore, MO. Brightwell's after show
June 6 - MACC picnic at the Prouty's place Raymore, MO
June 13 - Paola Car Show at Paola, KS
June 26/27 - Midwest Regional Chevelle Show at Springfield, MO
July 4 - Sugar Creek, MO 4th of July Parade
July 18 - Topeka, KS Cruise Night
August 1 - Parkville, MO Cruise
August 8 - Independence, MO cruise
August 15 - Hot Alma Nights Alma, KS. Cruise of Flint Hills starts at 11 A.M. We will have to see who wants to do this.
September 12th, 15th Annual Turkey Creek Car and Motorcycle Show Merriam Market Place, 5740 Merriam Drive, Merriam, KS 8a.m. to 4p.m. $25 registration day of show. Let me know who will be attending and I will save parking spots.

September 12th,KCI Cruise Night 12200 Ambassador Drive (east of airport, I-29 and I-435). 3p.m. to 10 p.m. Cruise in no registration. This cruise will usually have 400 to 500 cars.
September 13th, 10th Annual Wheels and Dreams Car Show, Johnson Drive and Nieman, Shawnee, KS 11 a.m. to 4 p.m. Not sure what the registration fee is for this one.
September 19th, Ol' Marais River Run, Forest Park, 320 N. Locust, Ottawa, KS. We will be meeting for breakfast at Old 56 Family Restaurant 912 South Chestnut Olathe, KS at 7a.m. Depart around 7:45 stopping at the off site visitors center location 2011 E Logan Street (Exit 187). If you can't meet for breakfast and want to come later in the day call my cell #816-547-1206 or Roger's 913-207-3374 and we can tell you where we are parked. This is the one of the largest car shows in Kansas with over 2000 cars. The park is over 40 acres with lots of trees

September 25 and 26th Mid-America Chevelle Club Car Show 16501 Midland Drive Shawnee, KS Noon 25th to 3:30 26th. More to follow on work day etc.
October 17 & 18 (?) - Fall Color Tour. Date not confirmed
March 22, 2015 - Tour World War I Museum 1 PM
Mid America Chevelle Club Picnic - Sunday, May 25, 2014 at shelter house #4, Shawnee Mission Park by the marina.
Our trip to Bristol, TN and Kayo Erwin's in Chattanooga - 11/18/02
MACC Picnic 2012